Tier I and II Training in Ancestral Eye Readings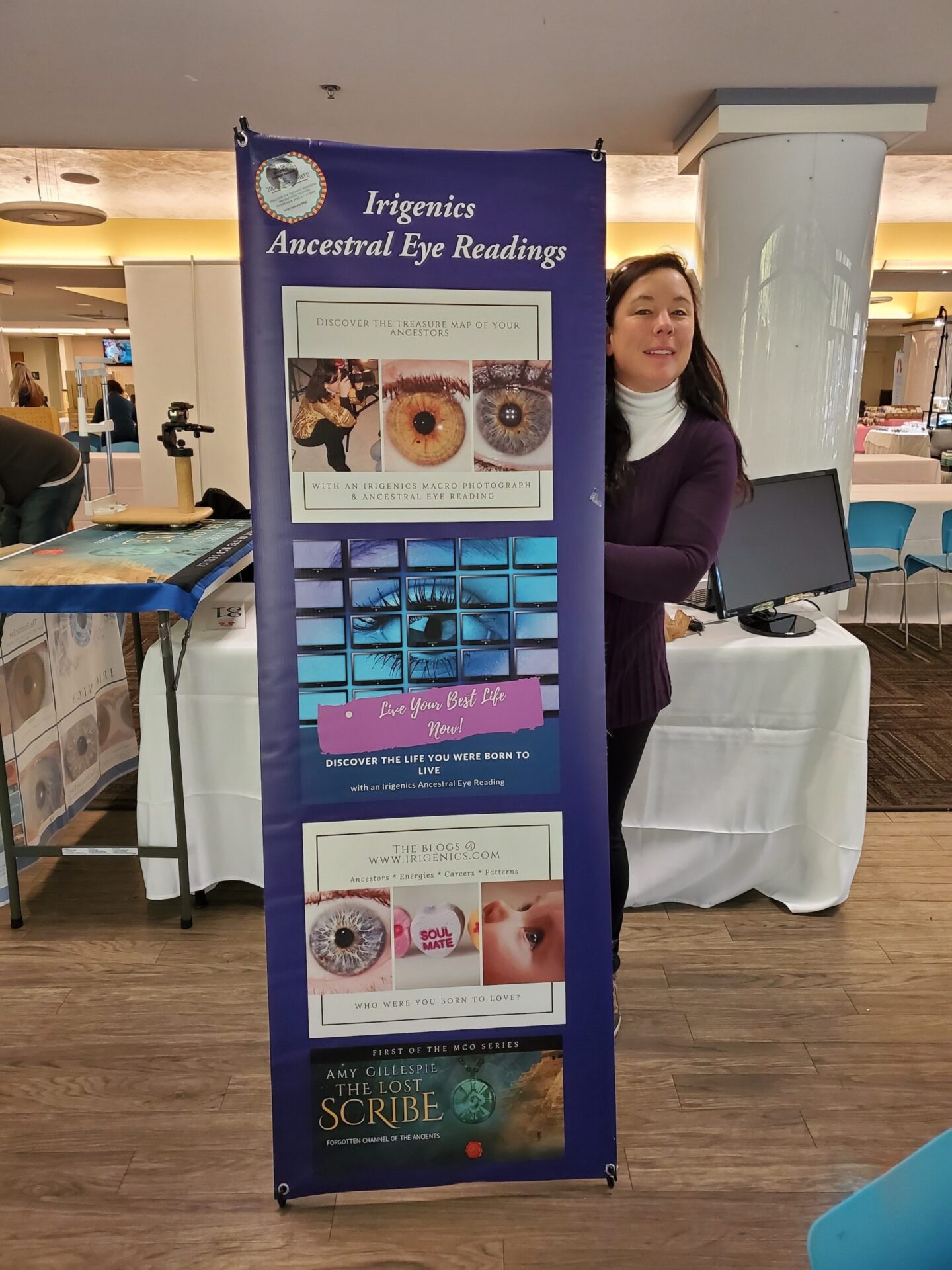 Tier I Training (Irigenics) Mastering the Ten-Minute Eye Reading
Ancestral eye reading is a magnificent tool to add to your "Self-Discovery" or "Coaching" tool box. Introduce your clients to the amazing world of their ancestors by learning how to interpret the patterns and images of the eyes. Irigenics Training is a self-paced, on-line, two-tier training program. By the end of Tier I (which can be completed in as little as one week, you will learn to master the art of capturing an iris image, the gifts of the ancestors, personality and energy patterns, and early-life adjustments that are revealed in the eyes. You will be able to share deep insight with your clients on the life they were born to live and the tools and challenges they were loaded up with when they first came into our world. With Tier II you will be able to interpret ancestral images, as they appear in the eyes, as well as the trauma and repeat patterns that are likely to happen in your client's world, and tools for how to work with those patterns. Help them to finally understand why the same situation happens to them over and over and how to recognize an ancestral touchpoint when it is happening.
Tier II Training
Mastering the Irigenics Ancestral-Eye Reading (certification course)
Become a certified Irigenics Ancestral Eye Reader with Tier II Training. Having completed Tier I, and gotten a bit of practice in doing the first-level eye readings, you may now jump into Tier II where you learn all of the ancestral aspects of eye reading. Learn the full map and how to know when you are looking at a gift or a trauma of an ancestor. Structure your readings so you can do them as dedicated videos or interactive readings face-to-face or on virtual meeting site. Scroll down for more details of the coursework and benefits of Tier II training. Contact me for additional discounts when purchasing Tiers I and II together.
Ancestral Eye Reading Follow-Up
Mini-Me or My-Eye-Mag Follow-up
While My Eye-Mag Report gives you a wonderful 36-page digital custom report of the nuances of you, it does not give you the opportunity to ask questions during the reading. For that reason, there are two options available for follow-up information during the first 30 days after you receive your My Eye-Mag report. 1) Discounted 20-Minute Mini-me virtual eye reading where you will book a time to ask any specific questions you have from your My Eye-Mag digital report. 2) Discounted Mini-me 30-minute dedicated video virtual reading. This is the full Mini-me as advertised on the shop page but since you have already purchased a My-Eye-Mag  you get it for the regular All Ancestral Price. This is a dedicated video – as pictured here and I will be going through the markings of your eyes start-to- finish, including images, ancestral touch-points, and gifts, talents, and energetic impressions. I will go through the ancestral markings in your eyes, the dynamics of your life and how ancestral patterns and other indicators may be playing out.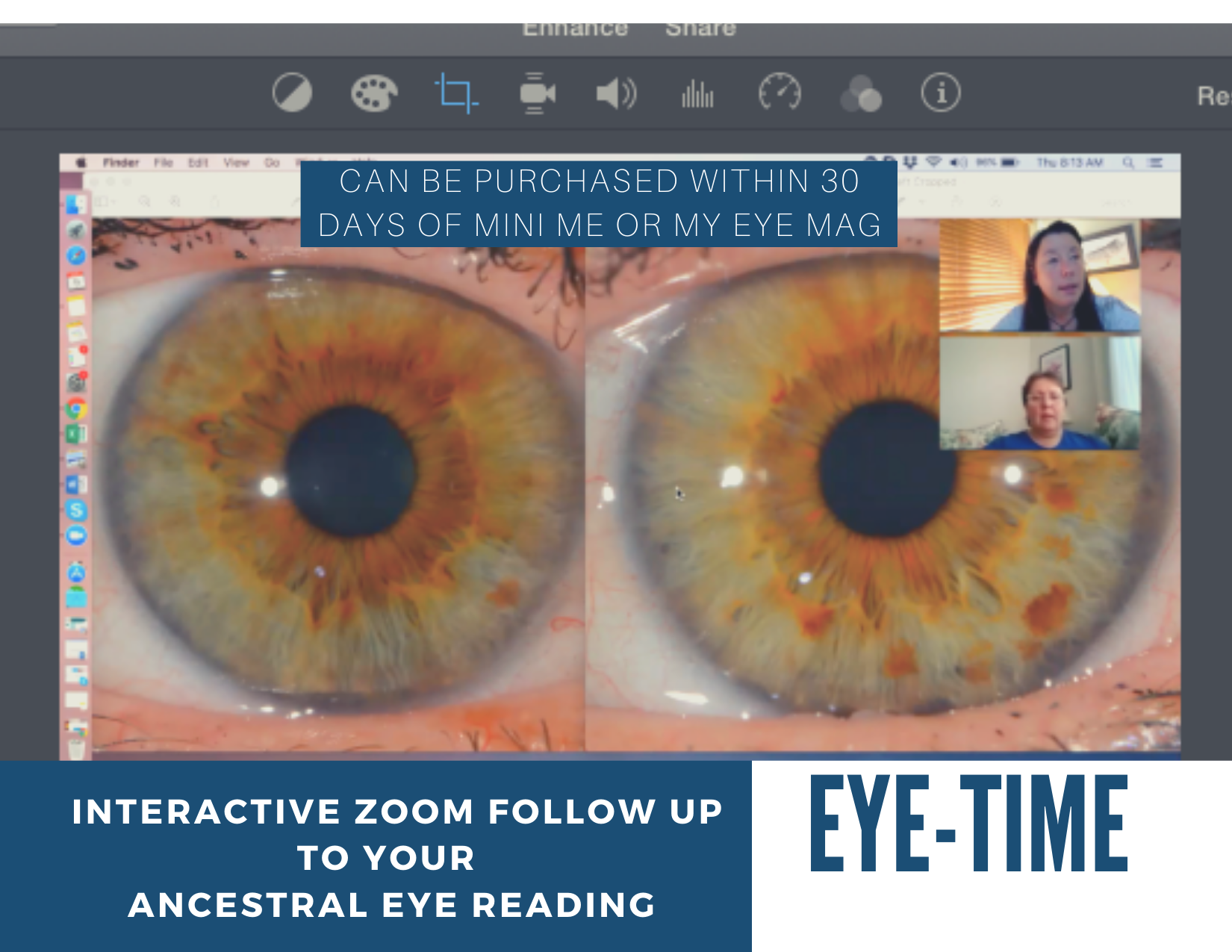 Tier I and II Ancestral Eye Training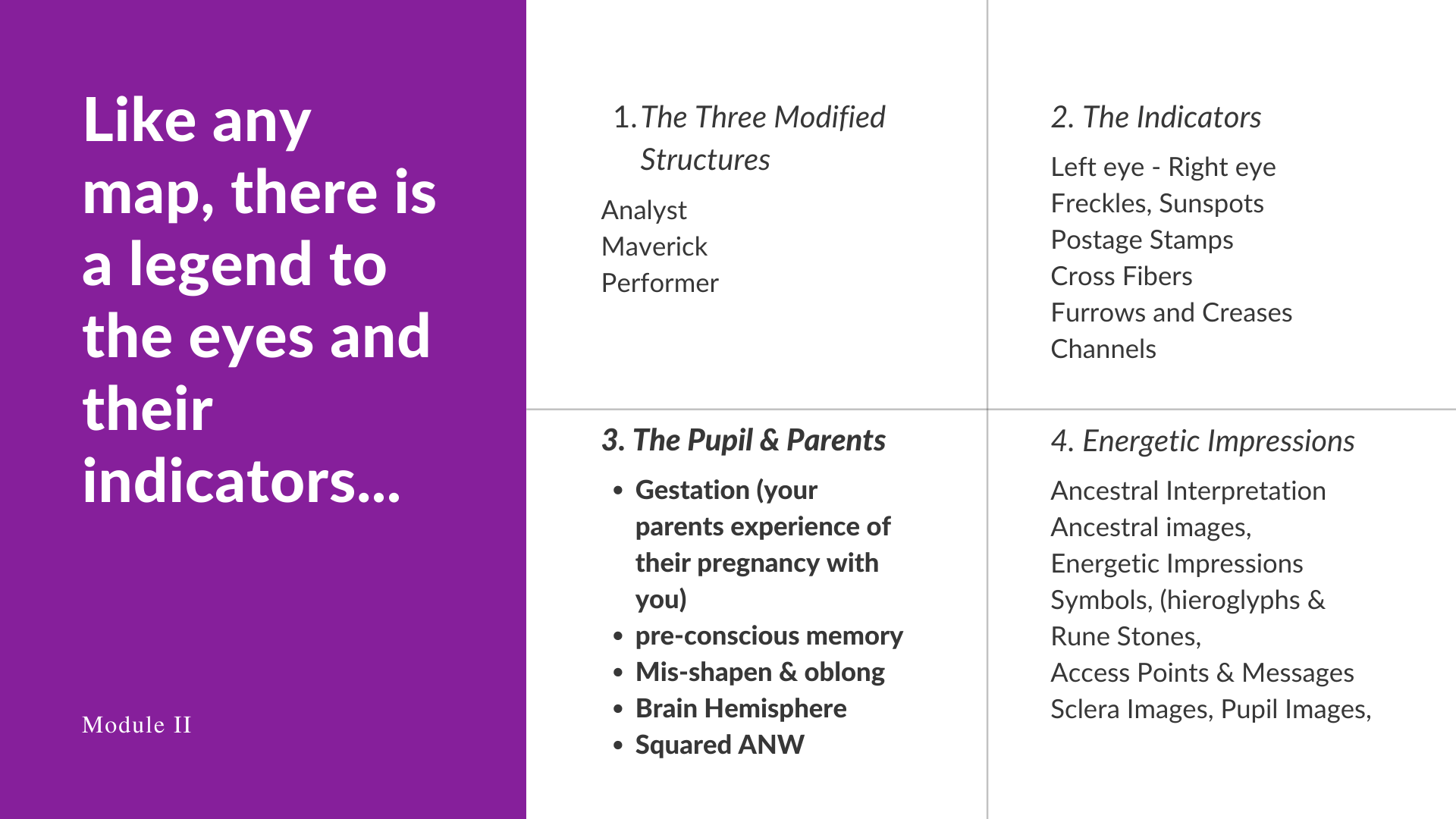 My Eye-Reading Business
Tier I is designed to enhance your current self-discovery business, or to prepare you for Tier II certification in Ancestral Eye Reading as an Irigenics practitioner. Includes:
Self-paced on-line course,
4 Training  Modules
14 training videos
15 resource videos
Access to the Private Facebook Group
Private access to the Irigenics Training Membership site
Continued Support via Zoom meetings,  blogs, additional videos and training seminars
One-on-one support for any personal challenges
At the end of Tier I, you will be able to give a 10-30 minute reading
Tier I is a prerequisite to Tier II certification
Tier I: Eye-Basics
Tier I – Mastering the          10-minute eye reading Course Subjects:
Basic Structure

Motivators
Texture
Colors
Indicators
Pupils
Gestation
Recognizing Ancestral Images
Anomalies
Preparing clients, working shows, and readings
Capturing the Images
Working with images sent by clients
Hygiene of working with clients
The business of eye reading – marketing, expenses and incomes, shows, clients, storefronts, website-graphics-client outreach
Receive referral payment for any full ancestral eye readings
Referral payments for any My Eye Mags from your clients or your photos
Tier II
With successful completion of Tier I, including your first readings, you will be able to launch into Tier II Training: Mastering the Ancestral Eye Reading:
The Ancestral Quadrants
Trauma or Gift? How can you tell?
The Ancestral Eye Map
Ancestral Interpretations
Energetic impressions
 Ancestral Images
Past Lives or Ancestral
Touchpoints
Interpreting without an eye photo
30 minute dedicated or 30 minute live-readings
Cautions in readings
What is Irigenics protocol
What if they sent a bad photo?
Affiliate payments and processes
Running your Ancestral Eye reading business
When in doubt?
When you've discovered a new vector of the ancestral map
Certification & Referrals
With Tier II you can take part in receiving referrals from the Irigenics website. 
Self-paced on-line course
Weekly office hours with Irigenics for any trouble spots
4 Training Modules  
16 training lessons
Dozens of resource videos and training materials
Access to the Tier I and II Membership site
Access to the Private Facebook Group
Continued Support via Zoom meetings,  blogs, additional videos and training seminars
One-on-one support for any personal challenges
Receive referrals from Tier I trainees for full ancestral readings
Referral payments for My Eye Mags from your clients
Opportunity to contribute to the development of the ancestral eye map