Your eyes are a beautiful map of the person you were born to be – your most vibrant personality, inherent gifts and talents, how you respond to the energy of others, your natural response to your environment, and how you respond to challenges. They are a snapshot of your best life in motion. This map is built on the genetics and experiences of your ancestors and is printed out in full-size within 3 days of birth.
Yet there can be some detours and changes to the terrain (your eyes) based on your earliest experiences, especially when they mirror those of your ancestors. I can help you understand some of the ancestral and personal situations that are playing in your life with an Irigenics® ancestral eye reading so you can take control of your life and realize your dreams.
My Philosophy
Your eyes are the most sacred map of who you are. Like cutting through the trunk of the tree, you can see the many years and conditions it took to make you… beautiful you…  your ancestors stories, from good to challenging are in there. When you can understand how some of the dynamics of your life are actually just a part of your epigenetic and familial inheritance, you can let go of blame and guilt, and start living your very best life.
I do this work because of the amazing experiences and results people get from their reading in understanding themselves, the ancestral patterns that are playing out in their lives, and the true potential they have had since birth to bring to the word!
Please note, that Irigenics® is not a health reading. If you have a health condition, please seek appropriate medical attention.
 the A-My Methods
Irigenics® readings often reveal internal dialogue patterns such as "It's my fault" or "What's wrong with me?" that can be wreaking havoc in your life. If your eye pattern doesn't match your personality or your career choice, you may have a lot of drama happening in your life that can be eliminated. You have two choices for your personal Irigenics® Ancestral Eye Reading: The "My-Eye-Mag" 36-page Digital Custom Report of your eye (and yourself) and the 30-minute "Mini-me" dedicated video, virtual reading. If you have high quality photos of your eyes, you can choose the All Ancestral Irigenics reading which includes the Mini-Me 30-Minute Dedicated Video and the 36-page custom My Eye Mag digital custom report, giving you the fullest depiction of what your eyes reveal about you. Using your photo of your eyes, we will analyze what the markings tell about you: your gifts and talents, epigenetic patterns from your ancestors, core beliefs, traumas, your "best partner," peak career choices, and your personal energy pattern. Often ancestral images (energetic impressions) appear in the eyes, showing you those who have honed your skills for generations; to  express now, through beautiful you. Quality of the My Eye Mag will depend on the quality of the photos submitted by you. 
My Goals
When I do your Irigenics® Ancestral Eye Reading, I have just one goal; to set you up for success by giving you the tools to maximize your life. Particularly if you are adopted, or for some reason don't know anything about your ancestral history, an Irigenics® Ancestral Eye Reading gives you a glimpse into the personal building blocks of your life; including gifts, repeat patterns, best career and relationship choices. Having insight into the workings of what makes you distinctly you, even if you're an identical twin, is an amazing gift as you redesign your life in order to realize your greatest dreams.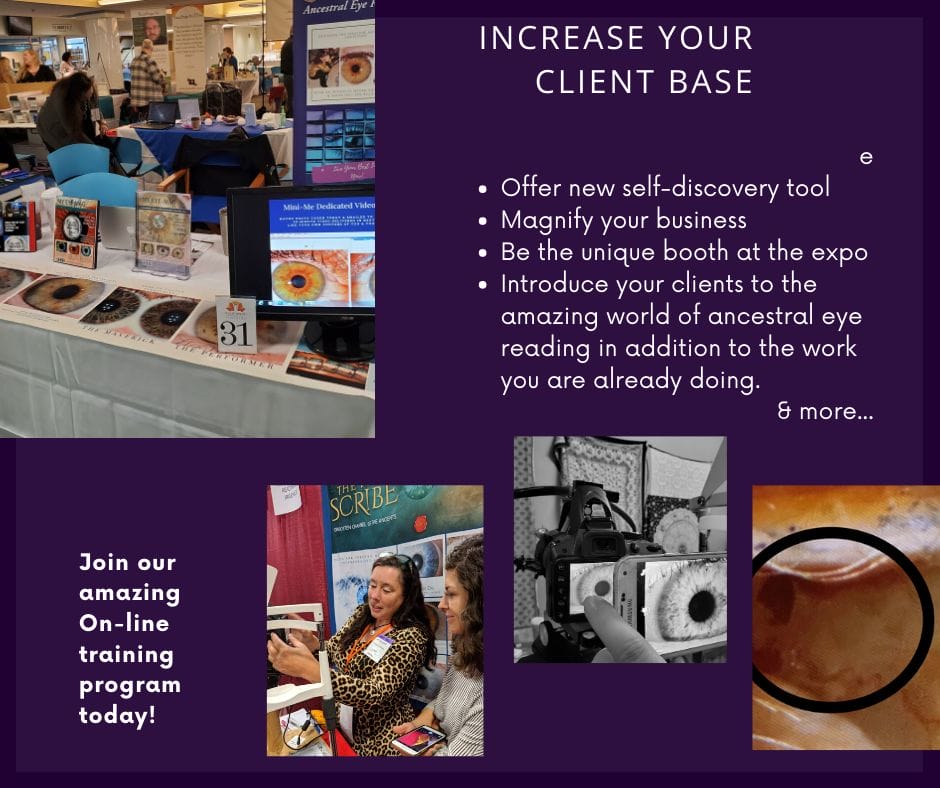 Adding Ancestral eye reading and interpreting the iris patterns is a great gift to add to your already blossoming holistic work in self-discovery. Get to the right questions sooner with your clients.
What did your ancestors load you up with?

What are your inherent gifts, talents, and abilities, as well as the early life experiences which reveal where you have made a shift from your birth-pattern?

What is your energetic pattern and how do you interact intuitively with others?

Do you have any motivational rings and what do they do for you?

How do they challenge you?
Studying to become an Irigenics Practitioner can be one of the greatest investments in your self-discovery tool-box for your clients,  This self-study on-line training program can be completed in a week, including how to  get an awesome eye photograph that will not only wow your clients, but reveal many energetic impressions and even ancestral access points for them.  This training includes access to the Members-Only website and resources that will help you grow your business, gain more clients, be on the leading edge of the latest tool in self-discovery and ancestral research. Stand out from the crowd! If you are currently "one of many"... you are about to become The One... 
You have three amazing options for getting to know your ancestors through your eyes:
My Eye-Mag where you discover the amazing world of "you" (winner of the Silver COVR award in 2019 - Visionary Product of the year). This is a custom digital download eye report of your eye magnified (on the cover and within the pages).  "My-Eye Mag," is a custom, 36-page look into the amazing world of you, your eye, and your ancestors.  Discover new ways to uncover your ancestors greatest gifts and past traumas and how they show up in your life. It's a whole new world in the world of Irigenics Ancestral Eye Readings. 
Mini-Me Dedicated Video: Contains the same amazing information as the My Eye Mag but is a digital video reading of you, your eyes, and your ancestors. If you are amazed by the images of people and symbols in your eyes, or if you struggle to see them, Mini-me is for you. Also great for teenagers and youngsters to learn more about their gifts, talents, and repeat patterns early in life.                     
All Ancestral Package" that includes a Mini-me dedicated video, as well as a full My-Eye-Mag 36-page digital PDF custom report of you, your eyes, and your ancestors.
You can learn to take your eye photos (like the My-Eye-Mag that won the COVR award) with this Youtube video "How to Take An Awesome Eye Photo
Ancestral eye reading is a fabulous new way to get a look at your eyes, your ancestors, and the life you were born to live. Whether you're in charge of the family reunion, upcoming civic event, or work with at-risk teens who are looking for a new "cool tool" to discover themselves, Irigenics® Ancestral Eye Reading offers you a number of ways to host a transformational event or group program. With an ancestral eye reading you gain insights into:
The personality and inherent gifts you were born with,

What life has added to those gifts that builds "your story",
How your ancestors life-stories have shown up in your experiences
What is your best life path, work-environment, and lifestyle that embraces the wholeness of you
Insights on how the Irigenics

®

eye readings are done
How to recognize your personal ancestral patterns that are available for healing and how they differ from your parents and siblings,
How other eyes compare to yours.. 

 
Explore the amazing world of your ancestors and how they show up in your current life, today!