Only six weeks to Tier II Training Irigenics Ancestral Eye Reading — get into this exciting on-line learning experience today!
Welcome to the amazing world of Irigenics Ancestral Eye Reading. Perhaps you've already had your ten-minute experience at a holistic event or show (or even a full Ancestral Eye Reading) and are fascinated by what you discovered in your own eyes. Now you can learn to do this award-winning method of reading eyes as part of your self-discovery tool box, non-profit work, or a stand-alone holistic business. There are four on-line modules to this course where you will learn to photograph eyes with side lighting in order to reveal the layers of the iris and the beautiful indicators and imagery that reveal. Learn how the basic eye structures, the motivational rings, the gifts, recognizing energetic impressions and ancestral images; and how to utilize eye reading in your current holistic self-discovery business and master the 10-30 minute eye reading for holistic and private events.
Tier I is a pre-requisite to Tier II Irigenics Ancestral Eye Reading Certification which will begin on May 14th (and will not be offered again until November 11, 2020).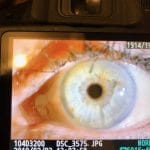 Your ancestors have waited your whole life for this moment! Watch this free video to learn more about Tier I training and the amazing world of Irigenics…
What's included in Mastering the 10-minute Irigenics Eye Reading